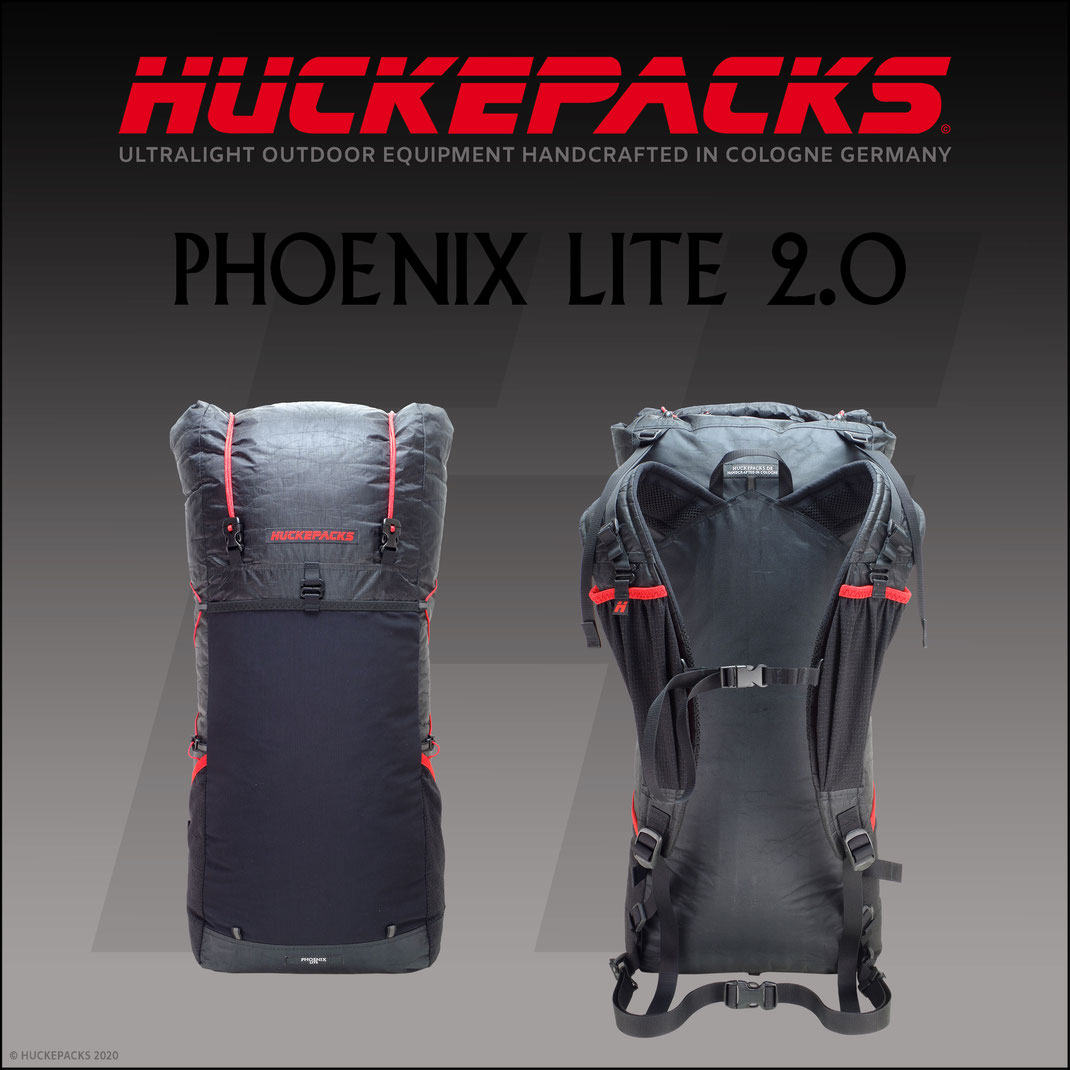 Liebe Ultraleicht Freunde,
Das Warten hat ein Ende! Endlich können wir die überarbeitete und verbesserte Version 2.0 unseres Phoenix vorstellen. Wie schon zuvor erwähnt haben wir die letzte Zeit genutzt um neue Ideen und Kundenfeedback von einem Jahr Nutzung durch euch in eine neue Entwicklung einfließen zu lassen.
Im Kern bleibt der Phoenix Derselbe, allerdings von Grund auf überholt. Fast alle Features wurden überarbeitet und verbessert. Die Liste ist lang:
Neun verschiedene Abstufungen in der Größe erlauben nun genaueste Passform
Verbesserter Materialmix, der nochmals die Haltbarkeit erhöht
Die Schultergurte wurden komplett überarbeitet und haben nun Dyneema Stretch Mesh Taschen, Lastkontrollriemen, stärkeres Padding, Softshell-Lining gegen Kratzen am Hals und einen nochmals verbesserten Shape
Der Brustgurt ist nun stufenlos verstellbar für noch mehr Komfort
Seitentaschen aus Dyneema Stretch für mehr Haltekraft auch von kleinen Gegenständen
Haken an der Fronttasche verhindert bei voller Ladung das Sacken der Tasche
Ein neuer Verschluss mit zwei Riemen erlaubt nun auch das Clippen von größeren Objekten (Zelte, etc.) auf den Rucksack und verbessert die Kompression des gesamten Packs
Vollausgestattete und abnehmbare Lastkontrollriemen übertragen im Tandem mit dem neuen Verschluss die Lasten von Hinten zur Front und verbessern so die Lastverteilung auch bei vollstem Pack.
Wir haben uns außerdem die Zeit genommen nochmal unser Line-Up genauer zu betrachten und andere Bereiche zur Verbesserung zu finden. Der Hipbelt-Plus z.B. ist nun noch widerstandsfähiger und komfortabler mit verbessertem Padding für größere Ladungen und längere Strecken.
Zusätzlich bieten wir ein neues Produkt an: Die Sacoche
Diese kleine Tasche erfüllt, getreu dem ultraleichten Motto, gleich zweifache Funktion. Ihr könnt sie alternativ zum beigelieferten System in das Innere des Phoenix einclippen und habt so neben der Mattenhalterung auch eine kleine Tasche im Inneren für Kleinkram und wichtige Dokumente, oder eurer Portemonnaie. Mit dem beiliegenden Trageriemen verwandelt sich die Sacoche aber auch in eine praktische Umhängetasche für den schnellen Gipfelsturm oder den spontanen City-Ausflug, mit genügend Platz für ein Windshirt, Riegel, eine Flasche Wasser, ein Handy und ein Notizbuch.
Wie ihr sehen könnt, haben wir nichts unangetastet gelassen, sondern haben alles nochmal unter die Lupe genommen und neu überdacht. Daher sind wir froh nach langer Wartezeit euch nun Neues und Bewährtes in neuem Licht anbieten zu können. Also, rüber zu unserem Shop und schaut euch um!
Dear Ultralight Friends,
the wait is over! As told before, we've been hard at work and are ready to introduce the new and improved Phoenix 2.0.
We incorporated new ideas into the pack as well as customer feedback we gathered over the last year. In essence the Phoenix remains, but almost all features have been updated and improved. The list is long:
Increased range of sizes to nine different variants, allowing for even better fit
Improved material mix, increasing durability even further
Shoulder straps have been completely overhauled with new Dyneema stretch mesh pockets, load lifters, increased padding, softshell lining to minimize neck rubbing and improved shaping
Sternum strap is now infinitely variable and customizable for increased comfort
Side pockets are now made from durable Dyneema mesh, increasing retention of anything inside
Retention hook on the front mesh pocket has been added to prevent sagging when fully stuffed
Improved closure system with two cords allows for clipping of larger objects like tents to the top of the pack and overall improves compression
removable load lifters are added and fully featured with loads being transferred from the back to the front of the pack via the new closure, making for better load distribution even when fully extended
We also took the time to look at other items in our line-up and search for improvements there as well. The Hipbelt Plus add-on is now more durable than ever and features improved padding for heavier and longer carries.
Additionally, we're also introducing a new product: The Sacoche.
This little pouch, true to our ultralight roots, serves a dual function. It can be clipped to the inside of the Phoenix and hold down any pads there, with the added benefit of an internal zip-pocket for smaller items like important documents or your wallet. Alternatively, you can clip on the included strap and transform it into a Sacoche. Great for any fast ascents and city excursions, with enough room for a windshirt, energy bars, a small water bottle, cellphone and a notebook.
It took a good while designing and testing these new features and products and we're happy to finally be able to ship the new and improved Phoenix to you. So, head on over to our shop to look around!